Contact Us
Any Questions? Let's talk.
With every journey you're about to take, there's excitement. There are also questions. We're more than happy to help guide you, field concerns, or just to be there if you're looking for height growth tips. We're here for you.
Check out our Frequently Asked Questions
or reach us via email at: info@truheightvitamins.com
Check out our FAQs
We're ready to answer all of your questions about the full TruHeight line-up.
Visit FAQ Page
Already a customer?
Log in to your My TruHeight account to update your subscription ship date, change your address or billing details, add or remove products, or track a recent order.
Chat with Us
Interact with our chatbot, your 24/7 support companion. Get answers and assistance anytime.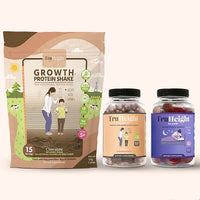 Know your height. Grow as tall as you can.
Learn about the all-in-one solution to height so you can get growing.
Find my Growth Plan®