What it does
TruHeight Toddler Bone Growth Gummy helps with height growth and bone health for stronger bones and improved immunity. These nutrient-packed, delicious chewable gummies are essential during their early years when their bodies are still developing.
How it works
To Increase Height
Each piece of gummy is filled with all the essential vitamins and minerals that aid with your toddler's bone development and overall health. It helps your little ones not only to grow taller but also to have less risk of getting sick from viruses. This makes the TruHeight Toddler Bone Growth Gummy the ultimate companion for your child's height growth and development.
How to take
Our Height Growth Supplement
Recommendation: Not for children under 2 years of age due to choking hazard. Children 2-3 years of age, chew 1 gummy daily. Children 4 years of age and older, chew 2 gummies daily. Instruct child to chew gummies thoroughly before swallowing. Do not exceed recommended dose. If you are pregnant, nursing, or taking any medications, consult a healthcare professional before use.
Who Can Take
These Capsules To Get Tall
TruHeight Toddler Bone Growth Gummy is suitable for kids that are 2+ years old.
What's Inside
Our Height Growth Pills
This product is packed with essential nutrients such as Vitamin D3, Vitamin K2, Lutien, Phosphorus, Magnesium, and Calcium for healthier and stronger bones that aid height growth and overall health. This makes the TruHeight Toddler Bone Growth Gummy the best gummy vitamin for your kids to enjoy as they grow up.
Vegan
Gluten and Major Allergen Free
Made Traceable®
Non-GMO Project Verified
No Artificial Colorants
Bone Growth Gummy
Strengthening Little Bones
TruHeight Toddler's Bone Growth Gummy ensures your child's bones grow healthy and sturdy, providing a strong foundation for their future growth.
Key Ingredients: Fortified with Calcium, Vitamin D, and Magnesium - vital elements for bone health.
Bone Growth

Calcium is an essential mineral that supports bone mineralization and overall skeletal development.*

Bone Strength

Vitamin K2 regulates calcium distribution, ensuring it is properly directed to the bones and teeth, promoting growth and strength.*

Bone Health

Vitamin D3 sourced from Cholecalciferol, promotes optimal bone health in young children by facilitating calcium absorption.*

Collagen Synthesis

Magnesium activates enzymes involved in bone mineralization, while manganese supports bone formation by aiding in collagen synthesis and maintaining bone matrix integrity.*
Customer Reviews
Our customers praise us for our great results, personable service, expert knowledge and on-time delivery. Here are what they say:
Investing in Tomorrow: Truheight Gummies Boost Growth
Being a parent who dreams of their child becoming an athlete, I'm impressed with how Truheight Gummies support bone health. These are the building blocks my toddler needs for a strong and active future!
Truheight Gummies: A Delicious Step Towards Success
TruHeight Toddler Growth Gummy is a game-changer for parents like us who have big dreams for our child's future. The comprehensive blend of essential vitamins and minerals, coupled with the delightful strawberry flavor, makes this product a win-win. Five stars for a gummy that cares about our toddler's growth!
Truheight Gummies: Delicious Support for Growing Kids
My toddler looks forward to their daily Truheight Gummy, and I'm thrilled to know that it's contributing to their healthy growth. The blend of vitamins and minerals is spot on.
Investing in Tomorrow: Truheight Gummies Boost Growth
These Toddler Growth Gummies from Truheight are a game-changer for parents with aspirations for their children's success. Packed with essential nutrients, these gummies support optimal growth, laying the foundation for a tall and confident future. The strawberry flavor is a hit, making it a daily treat for my little one.
Thank you so much for taking the time to share your positive experience with Truheight's Toddler Growth Gummies!
Parenting for Heights: Truheight Gummies Story
Parenting for heights is a breeze with Truheight Gummies. These gummies are a crucial part of our parenting strategy, ensuring our toddler gets the nutrients needed for healthy growth. It's a simple yet impactful choice.
Ensuring your toddler gets the essential nutrients for healthy growth is a top priority, and we're honored to be a part of your journey. Thank you for making the simple yet impactful choice of incorporating TruHeight Gummies into your parenting routine. If you ever have more insights to share or questions, feel free to reach out.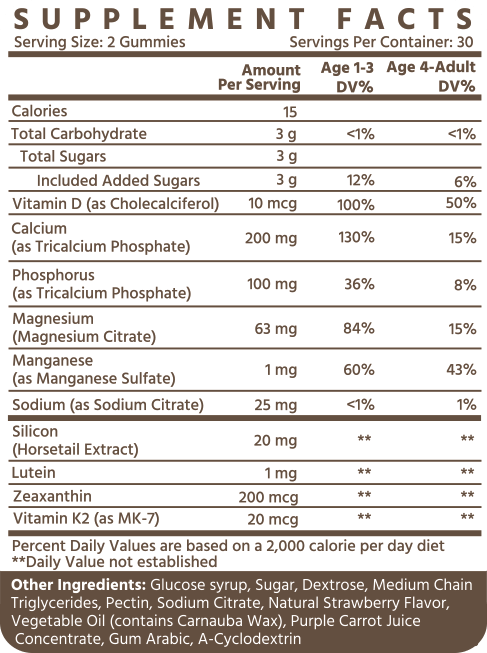 Choosing a selection results in a full page refresh.
Press the space key then arrow keys to make a selection.